PICNIC IN THE PARK

There's no better way to spend a Sunday afternoon than an outdoor picnic in the park. This tasty menu can be prepared on an outdoor grill. Don't forget the lemonade for those hot summer days.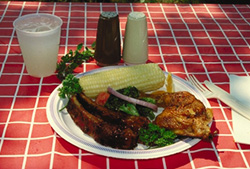 MENU:

Barbecue Chicken and Ribs

Corn on the Cob

Fresh Vegetables

Potato Salad

Baked Beans

Lemonade



ICE COLD LEMONADE

8 Lemons Cut into Halves

2 Cups of Sugar

1 Gallon Ice Water

Juice lemons and remove seeds. Mix with sugar and ice water. Chill before serving.

If you like the recipes on this site, you should try our fabulous RECIPE BOOK for hundreds more culinery ideas.

Order Now Cyber Scrappies Recipe Book